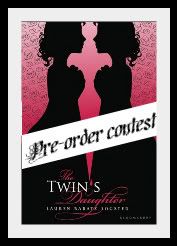 THE TWIN'S DAUGHTER
BY

LAUREN BARATZ-LOGSTED
Lucy Sexton is stunned when a disheveled woman appears at the door one day…a woman who bears an uncanny resemblance to Lucy's own beautiful mother. It turns out the two women are identical twins, separated at birth, and raised in dramatically different circumstances. Lucy's mother quickly resolves to give her less fortunate sister the kind of life she has never known. And the transformation in Aunt Helen is indeed remarkable. But when Helen begins to imitate her sister in every way, even Lucy isn't sure at times which twin is which. Can Helen really be trusted, or does her sweet face mask a chilling agenda?
Filled with shocking twists and turns, THE TWIN'S DAUGHTER is an engrossing gothic novel of betrayal, jealousy, and treacherous secrets that will keep you guessing to the very end.
Prizes:

Signed Copies of Crazy Beautiful by Lauren Baratz-Logsted


From now until August 31st, Pre-order The Twin's Daughter by Lauren Baratz-Logsted anywhere you wish and send the receipt to
bookbutterfly9(at)gmail(dot)com.
Official Rules:
1. U.S. residents only (Note: If you live outside the U.S., but have an address within the U.S. that the book can be mailed to, you may enter)


2. You MUST pre-order The Twin's Daughter to be eligible to win.


3.For every 10 entries I receive, I will be giving away one signed copy of Crazy Beautiful. So- for example: if I get 100 entries, that's 10 chances you have to win a copy of the book!
**UPDATE***
I'm sweetening the pot for this contest!
In addition to winning a signed copy of

Crazy Beautiful

by Lauren Baratz-Logsted, one lucky winner will also receive the following prize pack, just for pre-ordering

The Twin's Daughter

. So if you missed out on these great titles before, and would love to read them, well- here's your chance! Just send your receipt for

The Twin's Daughter

to bookbutterfly9(at)gmail(dot)com and you will be entered.



Dream Life by Lauren Mechling (hardcover)

Bad Apple by Laura Ruby (hardcover)
My Ridiculous Romantic Obsessions by Becca Wilhite (paperback)

In a Heartbeat by Loretta Elsworth (signed arc)
Possessed by Kate Can (arc)
Match Made in High School by Kristen Walker
(arc)