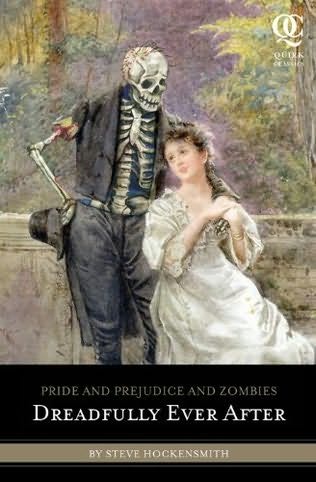 The story opens with our newly married protagonists, Elizabeth and Fitzwilliam Darcy, defending their village from an army of flesh-eating 'unmentionables.'

But the honeymoon has barely begun when poor Mr. Darcy is nipped by a rampaging dreadful. Elizabeth knows the proper course of action is to promptly behead her husband (and then burn the corpse, just to be safe).

But when she learns of a miracle antidote under development in London, she realizes there may be one last chance to save her true love—and for everyone to live happily ever after.

Five Questions Steve Hockensmith Is Asking Himself

(1) Why are you guest-blogging at The Book Butterfly? You've never written a YA novel.
Au contraire, mon ami! But I have! I just didn't set out to. Take my newest book, for instance: Dreadfully Ever After. It's the sequel to Pride and Prejudice and Zombies. I didn't try to write it in the style of Jane Austen -- it's got a more modern vibe than that. Yet certain ground rules still apply. No swearing. No sex (though there's plenty of repressed passion). Family drama. Young, strong-willed heroines trapped by social convention. Reanimated corpses feasting on the flesh of the living. Put it all together and you've got a book that fits quite snugly in the YA category even if NSYA (Not So Young Adult) horror fans and Jane Austen fans were the original target audience.
(2) Do you think any of your other books could qualify as YA?
Well, certainly Dawn of the Dreadfuls, the Pride and Prejudice and Zombies prequel that came out last year, would fit for all the reasons mentioned above. No swearing, no sex, reanimated corpses, etc. And since it takes place four years before the original PPZ, the heroines are all in their teens. That's gotta help. I also write mystery novels -- the "Holmes on the Range" series -- that might appeal to the YA crowd, particularly boys. It's about a pair of young cowboy brothers who set out to become detectives using the methods of their hero, Sherlock Holmes. There is a certain amount of PG-13 swearing, though. And though there's no sex, the existence of sex is acknowledged. (My heroes help out prostitutes on more than one occasion.) And some of the deaths are pretty gruesome. In fact, the first book in the series opens with the guys trying to piece together a body that's been trampled by a herd of.... O.K. So maybe my mysteries aren't so YA-friendly after all.
(
3) Now that you've stumbled into the YA field, would you like to stay?
Oh, yeah! I'm so ignorant about the field, though. I mean, I know next to nothing about the current marketplace. I have the impression that it's dominated by female readers but people are always looking for books that would engage teen boys. And I think every series has to feature a handsome, broody young vampire. Who glimmers. Or maybe sparkles. Or does he just glow? See what I mean? There's so much I have to learn!
(4) If you don't know anything about the YA field, what makes you think you could write more YA books?
Whoa. Good question. Arrogance?
(5) Fair enough. Ready for lunch?
Totally. I'm thinking Chinese today.
Steve Hockensmith is the author of two Pride and Prejudice and Zombies novels and five Holmes on the Range mysteries. He also talks to himself a lot. You can learn more about him at
www.stevehockensmith.com
.